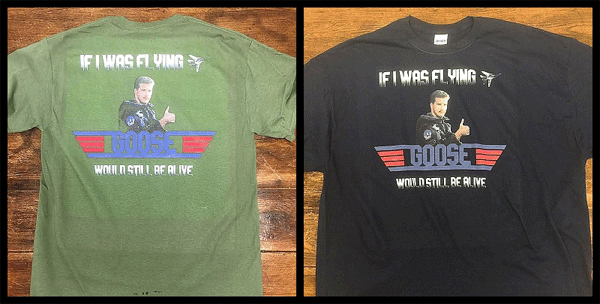 I am probably not the first person to admit that he actually liked Top Gun! The movie really stands the test of time. This
If I was flying Goose would still be alive shirt
is my tribute to Gooseman. Maverick was not my cup of tee...And I think that is a murderer.
These tee shirts are available in eight different colors and seven (got that, SEVEN) sizes. Yes, we realize that some of you are no longer a fit and trim size 44 chest, so we're offering our awesome shirts in sizes up to triple XL. Choose your color, choose your size, choose your quantity. If I was flying Goose would still be alive is boldly printed across the front or back of the tee....You can choose at checkout.
Our direct to garment printed biker t-shirts are priced low enough that you could have a fresh one for every day of the every day of the week!