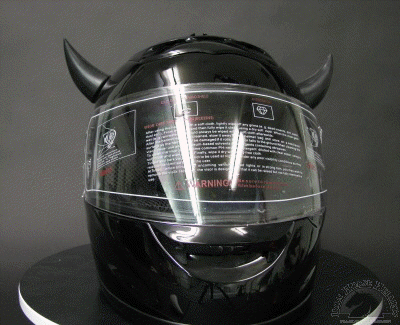 Now you can get your own Devil Horns for your Motorcycle and Scooter Helmets!
No need for anyone to customize your helmet and no need to permanently alter your helmet. These easily attach and detach to and from any motorcycle helmet. Just wet and stick the suction cups to any smooth part of your helmet, and you are ready to go.
* No Drilling, No Screwing, No Sticky Residue
* Removable & Reusable
* Will not damage your Helmet
* Flexible and soft
* Made from heavy black rubber
* Road tested on the road with 10 horns on for 1 hour for 80-125 km/h (49.7-77.6 MPH)...None fell off.
* Designed to stay on in the wind, yet come off with direct pressure. If they hit an external object or you crash they will come off instead of knocking you around.
* Light weight,

1 horn weights only 40 grams

* Can be used as Devil Horns, Demon Horns, Animal Horns, Animal Tusks, Spikes, or anything you can think of.
* Available in Red, Black, Pink, Green, Red, Orange and White. Combined colors to make unique helmet designs.